The FCC has set the year 2006 as the deadline for broadcasters to switch from standard definition television (SDTV) to digital television (DTV) and high-definition television (HDTV). Among the many advantages of this transition, transmission distance and repeater (signal regenerators) do not affect the quality of digitized video. A visit to any major broadcast industry trade show, such as those sponsored by the National Association of Broadcasters (NAB) or Society of Motion Pictures and Television Engineers (SMPTE), reveals that cameras, tape decks, mixing boards, matrix switches, effects boxes, etc. operate the digital format. Fiber optics plays a big part in the move to the new television standards, providing the only viable means of signal transport by offering the bandwidth required for these television standards. Currently, analog video signals can be carried over relatively long lengths of coax cable. With a bandwidth of only 4.5 MHz, analog signals do not tax the limited bandwidth of coax cable, but even so, coax cable introduces a great deal of frequency dependent distortion requiring an equalization network. A digitized video signal's increased bandwidth usurps coax's ability to carry the new signal. A standard NTSC video signal typically requires a serial bit rate of 143.2 Mb/s. By contrast, high-end HDTV standards require serial bit rates of 1,485 Mb/s. Coax cable can carry such high-speed digital data streams short distances, typically 300-600 meters for NTSC and 30-60 meters for HDTV. Fiber optics, on the other hand, can easily carry the full range of digital signals up to tens of thousands of meters. Figure 1 shows a typical digital fiber optic video transmitter.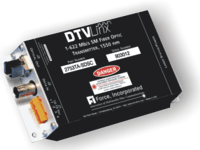 Figure 1 - Typical Digital Fiber Optic Transmitter
Several standards exist or have been proposed for digitized video transmission. All result in a serial digital data stream. Table 1 lists the key standards.

The first four standards represent the standards used today. Several European community development programs have focused on EU95, a digitized HDTV standard. The bandwidth required by these standards staggers the mind, compared to analog video's 4.5 MHz bandwidth. Figure 2 illustrates the comparison between the bandwidth of a typical copper coax cable and fiber optic cables, showing the response of copper coax cable, multimode fiber and single-mode fiber.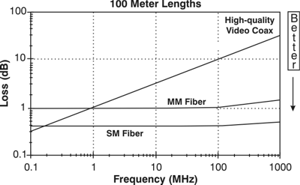 Figure 2 - Comparison of Copper Coax and Fiber Bandwidth
Serial Data Transmission Formats and Standards
Table 2 describes standards used to convert from an analog video signal to a digitized signal. The standards describe the scale factors, word formats, overall data structure, and how to serialize the data for copper coaxial cable transport.

DTV and HDTV resolutions require several new transmission standards. SMPTE 292M resembles SMPTE 259M but includes much higher data rates and addresses fiber optic specifications. The full bandwidth HDTV 1.485 Gb/s data rate allows copper coaxial cable to transmit up to 100 meters, while fiber can transmit more than 100 kilometers. Fiber optics can also transmit SMPTE 310M for HDTV formats using MPEG-2 data compression at rates up to 40 Mb/s. Digital broadcasters use both SMPTE 292M and 310M signals in their fiber optic studio-to-transmitter links (STL). Table 3 lists the key parameters of the serial digital data link associated with these SMPTE standards.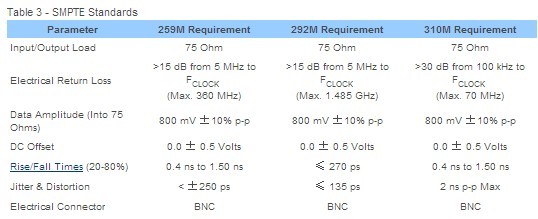 Datacom vs. Telecom Fiber Optic Links
The telecom industry developed the first, most common type of high-speed data link. Telecom links, usually optimized for a single data rate, focus on reliability and very long distance performance. Emphasis on these factors reduces the importance given to BER (Bit Error Rate), jitter and wide data rate capability. Fiber optic links developed for telecom applications often boast a BER of 10-9. In a telephone conversation, this corresponds to a single audible "click" every 4.4 hours. The datacom industry developed a second type of high-speed link. In datacom links, a BER of 10-9 means one error per second for a computer-to-computer link running at 1 gigabaud, which can be disastrous to a computer. Most datacom applications demand minimum BER of 10-12 or 10-15. Encoding data with parity bits or checksum words corrects bit errors that have a detrimental impact on datacom applications. Table 4 shows the required BER for various digitized video formats and conditions.

Jitter has less impact on telecom links since they often run at a single data rate with a 50% duty cycle of short run lengths. Datacom on the other hand expects a given fiber optic link to handle a range of data rates and coding schemes. This expectation does not allow for a 50% duty cycle. Data block-coded by 4B5B has an average duty cycle varying from 40% to 60%. Lastly, telecom links usually have to handle distances up to 100 km without repeaters compared to a typical datacom application transmission distance. The broadcast industry more closely fits the requirements of the datacom industry than the telecom industry, especially regarding low bit error rates. Table 5 provides a detailed comparison between the fiber optic link requirements for the telecom, datacom, and broadcast industries.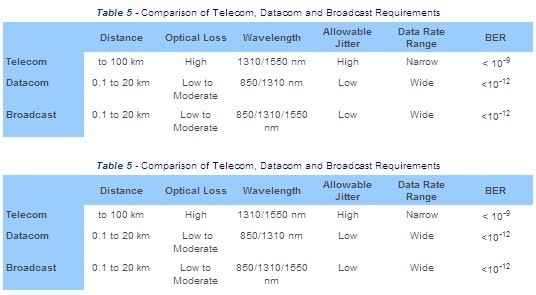 Wavelengths and Optics for Digitized Video
Like many fiber optic video applications, the most popular transmission wavelengths and laser types include 1310 nm and 1550 nm. Because of the high modal noise associated with 780-850 nm, lasers have difficulty achieving reliable bit error rates of 10-12 to 10-15. Links using 1310 nm or 1550 nm Fabry-Perot lasers can meet all broadcast industry requirements at very attractive prices. In addition, they can handle all projected broadcast industry serial data rates on multimode fiber up to distances of 700 meters and on single-mode fiber up to 60 km. With standards still emerging for digitized video, users must consider versatile fiber optic links. For more information on optic fiber please see Types of Optical Fiber. Light-emitting diodes (LEDs) may transmit serial data rates up to 270 Mb/s, and a few laboratory demonstrations suggest the capability of operating at speeds to 500 Mb/s or even 1 Gb/s. However, the transmitter sources must be hand "tweaked," prohibiting them from reaching volume production. In addition, the wider spectral width of LEDs greatly reduces fiber's overall bandwidth. For more information on LEDs please see Light-emitting Diodes
Digitized Video over Fiber Transmission Performance
The broadcast industry will not fully switch to fiber optics until copper fails to do the job. Complete deployment of digitized video will be copper's death knell. As mentioned, copper coax systems transmit standard video signals up to thousands of meters, but they only transmit a few hundred meters at digitized NTSC rates and only tens of meters at digitized HDTV rates. Broadcast studios may not locate video processing equipment within that working distance, requiring optical fiber. Figure 3 shows the typical eye diagram associated with copper-based serial digital transmission over 100 meters and at a data rate of 270 Mb/s, digitized 4:2:2. Figure 4 clearly shows the advantage of fiber optics in an eye diagram associated with fiber optic serial digital transmission over 11,121 meters at a data rate of 531 Mb/s, about twice that of digitized 4:2:2.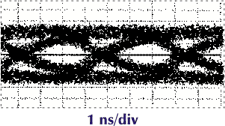 Figure 3 - Eye Pattern for 100 m Over Copper Coax at 270 Mb/s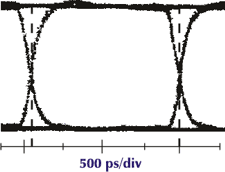 Figure 4 - Eye Pattern for 11,121 m Over SM Fiber at 531 Mb/s
The eye diagram associated with the copper coax resembles that of an unequalized cable. Using cable equalization would reduce this distortion, which results from different amounts of attenuation used for different frequency components in the waveform, as well as the different delays associated with these frequency components. This distortion results in intersymbol interference. In other words, the data bits will overlap and smear together. Fiber optics possesses bandwidth hundreds or thousands of times larger than copper coax cable, greatly reducing the problem. Properly designed fiber optic links require no equalization. This reduces setup time and the skill required to establish a working link. In other words, it may actually be easier to install a fiber optic link than a serial copper coax link.
Related Fiber Optic Transmission Basics Links
•Parts of a Fiber Optic Transmission Link
• Analog vs Digital Fiber Optic Transmission Comparison
•Broadband Video Fiber Optic Transmission
•Baseband Video Fiber Optic Transmission
•Digital Fiber Optic Video/Audio/Data Transmission Systems
•Fiber Optic Network Topologies for ITS and Other Systems