Fiber Optic Transmission Point-to-Multipoint Solution
Point-to-Multipoint Transmission Solution must use cooperatively with Optical Splitter, this transmission form is suitable for one image collection point and several image display points solution, optic splitter could provided by a third party, as long as optical loss within budget of our transmitter and receiver optical loss.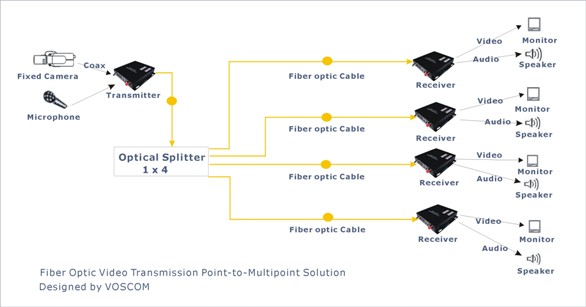 In the above case, composed of one set 1-channel video + 1-channel audio transmitter, one set 1 x 4 optical splitter and 4 sets 1-channel video + 1-channel audio receiver.
In the front-end, 1 channel camera video signal and 1 channel audio signal collected by microphone transmitted optical signal to optical splitter through transmitters, then optical splitter divided into 4 channels optical signal transmitted to receivers by means of single-mode or multi-mode optical cable. Receivers then output video to indicator, output audio to the speaker.
Camera's video images finally transmitted to indicator, In the whole transmission process fully use digital transmission, image lossless, uncompressed, No EMI or RFI, images collected by cameras could clearly transmit to indicator.
Related solutions Link:
•Multipoint-to-Point Transmission Solutions (Use Rack-mount)
•Point-to-Point Transmission Solutions
•Daisy-Chain Transmission Solutions
•Optical Converge Transmission Sulutions