Share the growth, share the success!
VOSCOM is devoted to establishing and improving a global cooperation plan for partners, and expects to help channel partners obtain sustainable and rapid development.

VOSCOM uses a flexible model for its sales process, authorized distributors, resellers, agents and OEM/ODM partners system. All of VOSCOM' branded products have been and will continue to be sold through the sales channels.

VOSCOM invite and welcome the partners to join with us in mutually beneficial partnerships for long term supply and profitability.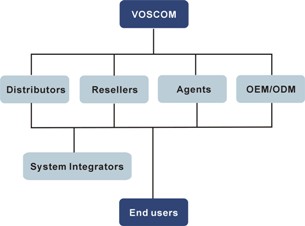 If your company specialized in fiber optics or security surveillance CCTV and are interested in our products, we welcome you to become our authorized partners, please contact us now.
China Headquarters
VOSCOM TECHNOLOGIES CO.,LIMITED.
Huayang Industry Park #1 A311, NO.79 Baijiayuan Road,
Hangzhou, Zhejiang, P.R CHINA 310023
Tel: +86-571-87389389
Fax: +86-571-87389390
Email: Sales@voscom.com
Email: Support@voscom.com
Email: RMA@voscom.com