System Design
3G-SDI Fiber Transceiver VOS-2H3G-ADT/R provides for the digital transmission of 2-Channel uncompressed 2.97Gbps 3G-SDI (SMPTE 424M), 1.485 Gbps HD-SDI (SMPTE 292) or 270 Mbps SD-SDI (SMPTE 259M) 1080P HD video over fiber, support 2 duplex analog audio and 1 duplex RS232/RS485 data, also support one loopback output for local display, and dual outputs for two displays in the remote end. This unit only can support 19inch 1U Rack.

Single-Mode or Multi-Mode, VOS-2H3G-ADT/R can support FC/PC or ST/PC optical connector, the transmission distance range according to the Optical Budget. Manufacturer's standard is: Single-mode 20km, Multi-mode 300m.
Features
• Extends uncompressed multi-rate 3G-SDI, HD-SDI or SD-SDI video over fiber
• Supports SMPTE 424M, SMPTE 292M, SMPTE 259M or DVB-ASI compliant
• Supports embedded digital audio stream
• Multimode Fiber Support for Distances up to 300m.
• Single-Mode Fiber Support for Distances up to 20km.
• Real-Time Video Transmission for Exceptional Quality and Resolution
• LED Status Provide Rapid Indication of Operating Parameters
• No EMI or RFI and no ground loops
• Stand alone or rack-mount
• Produce according to customer's specifications, providing OEM
Specifications
• Video
Number of Channels:
2-Channel 3G-SDI, HD-SDI or SD-SDI
Data Rate:
19.4 Mbps to 2.97 Gbps
Standards:
SMPTE 424M, SMPTE 292M, SMPTE 259M or DVB-ASI
Max Resolution
1920 x 1080 @ 60Hz
Equalization:
Automatic up to 100m of Belden 1694A at 3.0 Gbps, 200m at 1.485 Gbps and 350m at 270 Mbps
Return Loss:
> 15dB to 1.485Gbps:
> 10dB to 2.97 Gbps
• Audio
Number of Channels:
2-Channel Duplex Analog Audio
Audio input/output impedance:
600 Ohm Unbalanced
Bandwidth:
20Hz ~ 20KHz
Bit Resolution:
24-Bit
Signal-to-Noise Ratio(SNR):
> 80 dB
• Data
Data Formats:
1-Channel Duplex RS232 & RS485 Data
Data Rate:
DC to 115.2Kbps
Bit Error Rate:
10E-9
• Connectors
Video Connector:
75 Ohm BNC (Gold Center Pin)
Audio Connector:
Terminal Block
Data Connector:
Terminal Block
Optical Connector:
FC/PC or ST/PC Optional
Stand-Alone Power:
Screw terminal block
Rack Power:
AC line cord
• Electrical & Mechanical
Input Power Requirements:
DC 5V@4A
Power Adapter:
AC 100V~240V (Built-in)
Power Consumption:
< 10W
19inch 1U Dimensions:
483mm × 255mm × 46mm
Shipping Weight:
8kg (include Transmitter & Receiver)
• Environmental
Operating Temperature:
-40°C ~ +75°C
Storage Temperature:
-40°C ~ +85°C
Relative Humidity:
0% ~ 95% (non-condensing)
MTBF:
>100,000 hours
Ordering Information & Optical Specifications
Model Number
Fiber Mode
Wavelengths
Optical Power Budget
Maximum Transmission Distance
Transmitter
Receiver
VOS-2H3G-ADMT
VOS-2H3G-ADMR
MM
1310nm/1550nm
16dB
300m
VOS-2H3G-ADST
VOS-2H3G-ADSR
SM
1310nm/1550nm
12dB
20km

Note:
• The Optical Power Budget data fit Mulit-mode(62.5/125 μm),Single-Mode(9/125 μm).
• When using 50/125 μm multimode fiber, subtract 3 dB from the optical power budget.
• Optical transmission distance is limited to optical loss of the fiber and any additional loss introduced by connectors, splices and patch panels.
• Maximum transmission distance is also limited by fiber bandwidth.
• Power adapter is manufactured by third party and is supplied with fitted screw-terminal output cables.Power adapter included (for standalone) US, European, UK or Australian power plug.
• Please feel free to consult factory for any special requirement and customization.

Typical Configuration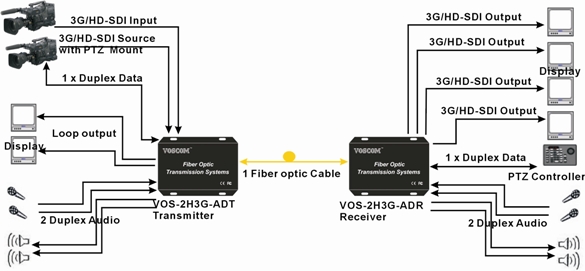 Note: Due to continuous improvement, all 3G-SDI Fiber Transceiver and 3G-SDI Fiber Optic Extenders product specifications are subject to change without further notice.